Staff
Our dedicated staff members are here to provide support, compassion, and information to help you through your journey of grief and the celebration of your loved one's life.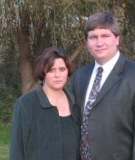 Doug and Rebecca Lantz
Owners of Lantz Funeral Home
Doug and Rebecca are proud owners of Lantz Funeral Home. Doug is the funeral director and embalmer. They are both from Pocahontas county and are giving back to the community. In 2007 we bought the property that we are on now. In 2011 we was able to do Dougs dream of build a business in our community. Doug volunteers at the Marlinton fire department where he is a fire fighter and emt for the department. Rebecca Manages alot of the day to day business.